Discover stronger, glowing, balanced skin.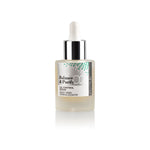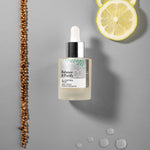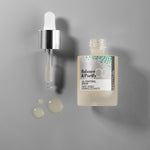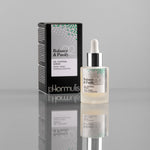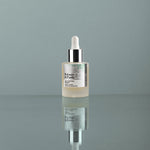 02
Balance & Purify
Oil Control Serum
A combination of functional ingredients, including Backhousia Citriodora sourced from Australia, organic coriander and lemon, work to purify the skin, refine the appearance of pores and reduce shine. Oil and blemishes are reduced, the skin is toned, uniform and matt.
Recommended in case of OILY AND COMBINATION SKIN, OPEN PORES.
Over 98% natural ingredients.

Dermatologically tested for all skin types.
OiLESS'CITY (Backhousia Citriodora): a natural functional ingredient sourced in Australia, extracted from the leaves of Backhousia citriodora. Specially developed to protect oily skin from environmental damage, it is known for its sebum-balancing, anti-inflammatory, antioxidant properties. [7]
Organic coriander extract: with toning, purifying, regenerating properties; it contains vitamins B1, B2, E, and K, ascorbic acid and mineral salts. [8]

Organic lemon extract: known for its astringent, purifying properties, it tones up the skin. [9]

Orange blossom water: known for its conditioning, anti-oxidant, purifying qualities.[10]

INCI
Aqua (Water), Glycerin, Saccharide Isomerate, Backhousia Citriodora Leaf Extract, Pullulan, Sclerotium Gum, Phenoxyethanol, Xanthan Gum, Lecithin, Ethylhexylglycerin, Citric Acid, Silica, Citrus Aurantium Amara Flower Water (Citrus Aurantium Amara (Bitter Orange) Flower Water), Citrus Limon Peel Extract (Citrus Limon (Lemon) Peel Extract), Coriandrum Sativum Fruit Extract (Coriandrum Sativum (Coriander) Fruit Extract), Sodium Citrate, Sodium Benzoate, Potassium Sorbate, Tetrasodium Glutamate Diacetate
HOW TO USE
Cleanse the skin then apply a few drops morning and evening, as required.
Pat gently to help absorption.
Apply a greater quantity on the rich sebum areas.
SKINCARE EFFICACY TESTS
Tests carried out using advanced technologies* have shown that Balance & Purify 02 serum reduces pores by 26% after 15 days of treatment, and after 30 days pore size are reduced by 43%.
Sebum levels are visibly reduced after treatment with Balance & Purify 02 serum. Sebum is reduced by 4% just 6 hours after applying the product. After 15 days of treatment, sebum is reduced by 9%, and 14% after 30 days.
* Efficacy tests conducted using advanced technologies, on 6 women and men who applied Balance & Purify 02 serum twice a day for 30 days
RESULTS
After 30 days of treatment*, the skin looks purer, less shiny and toned
"My skin is visibly less oily and clearer"
"...effective, my skin feels less greasy"
100% of the trial subjects who described their skin as impure before the treatment reported that the skin looked purified after 30 days of using Balance & Purify 02 serum.
85,7%* found that the appearance of large pores improved after 15 days of treatment
100% found that enlarged pores improved after 30 days of treatment
100%* would also use the product in the future. The speed of absorption and ease of application was positively rated
"I would use this product because it has visibly improved the appearance and texture of my skin, which looks less oily, even at the end of the day"
*Self-assessment questionnaire delivered to 6 women and men who applied the Balance & Purify 02 serum twice a day, for 30 days
Works with
Restore & Calm pH spray to prep skin before applying the serum.
For combination skin, combine with the Nourish & Plump 01 serum on most dehydrated areas.
For mature skin, use together with the Everlasting Youth 04 serum.
For skin with brown spots or marks apply after Radiance & Clarity 03 serum.
Perfect with the Nourish & Plump 24h cream.