Discover stronger, glowing, balanced skin.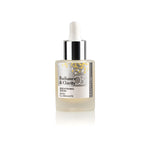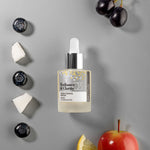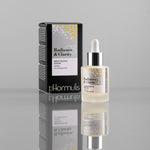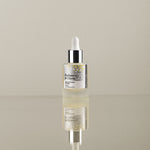 03
Radiance & Clarity
Brightening Serum
A precious cocktail of ingredients with AHAs and Florentina, Naringina and Moringa extract (Nio-Light) correct and brighten the appearance of uneven skin, dark spots and signs of ageing. The complexion is clarified, radiant and uniform over time.
Recommended in case of DARK SPOTS, HYPERPIGMENTATION MARKS.
Over 98% natural ingredients.

Dermatologically tested for all skin types.
Florentina, Naringina and Morinda Extract (NIO-LIGHT): brightening, 100% natural micro-encapsulated functional ingredient obtained from fruits (apple, morinda and orange), based on advanced technology that preserves its characteristics. It improves skin elasticity, reduces the appearance of wrinkles and protects against UVB damage. [11]
Fruit-based alpha-hydroxy acids: extracted from a specific blend of fruits and herbs suitably dosed to obtain a pool of synergistic functional ingredients with brightening, smoothing and nourishing properties. The regenerating, antioxidant blend is made from apple, vine, blueberry, lemon and sugar cane. [9-12]
Organic apple water extract: enriched with minerals and vitamins, it is known for its anti-inflammatory properties and its lightening effect. [11]
Organic coconut water extract: emollient, softening properties. Prevents the development of wrinkles and age spots. [13]
Sodium PCA: performs an effective nourishing, moisturising action. [14]
INCI
Aqua (Water), Glycerin, Sodium Pca, Saccharide Isomerate, Sclerotium Gum, Polyglyceryl-6 Oleate, Pullulan, Phenoxyethanol, Xanthan Gum, Polyglyceryl-10 Laurate, Lecithin, Naringin, Morinda Citrifolia Extract, Phloretin, Ethylhexylglycerin, Parfum (Fragrance), Sorbitan Palmitate, Silica, Citric Acid, Glycolic Acid, Lactic Acid, Malic Acid, Tartaric Acid, Sodium Citrate, Cocos Nucifera Fruit Extract (Cocos Nucifera (Coconut) Fruit Extract), Pyrus Malus Fruit Extract (Pyrus Malus (Apple) Fruit Extract), Pyrus Malus Extract (Pyrus Malus (Apple) Fruit Extract), Citrus Limon Peel Extract (Citrus Medica Limonum (Lemon) Peel Extract), Vaccinium Myrtillus Extract (Vaccinum Myrtillus Fruit Extract), Vitis Vinifera Leaf Extract (Vitis Vinifera (Grape) Fruit Extract), Saccharum Officinarum Extract, Sodium Benzoate, Potassium Sorbate
HOW TO USE
Cleanse the skin and apply a few drops on the affected areas, morning and evening, as required.
Pat gently to help absorption. Limit direct and prolonged exposure to the sun during treatment.
Always use a high factor sunscreen to help protect the skin when using the serum.
SKINCARE EFFICACY TESTS
Tests carried out using advanced technologies* have shown that Radiance & Clarity 03 serum helps diminish pigmentation levels by 27% after 15 days of treatment, and by 46% after 30 days of treatment.
The following images show the reduction of a pigmentation spot in an efficacy test in a volunteer. The spot, highlighted in red, was highly visible before treatment. After just 15 days of treatment, the main spot has clearly divided into two smaller spots, which are further reduced by the 30th day of using the product.
*Efficacy tests conducted using advanced technologies, involving 6 women and men who applied Radiance & Clarity 03 serum twice a day for 30 days
RESULTS
Users claim that the skin looks even and radiant after 30 days treatment, including in those who reported uneven and dull skin before treatment*
"My complexion has visibly evened out and my skin feels velvety to the touch."
83.3%* found that the product lightens pigmentation marks.
"It smells great and marks are visibly improved."
"Immediate results from the first few days"
83.3%* would also use the product in the future. The fragrance and scent were rated positively
*Self-assessment questionnaire delivered to 6 women and men who applied Radiance & Clarity 03 serum twice a day, for 30 days.
Works with
Restore & Calm 00 pH spray to prep skin before applying the serum.
Apply in combination with other serums as required.
Finish off with the Nourish & Plump 24h cream.